Mobile Pizza-Oven Recall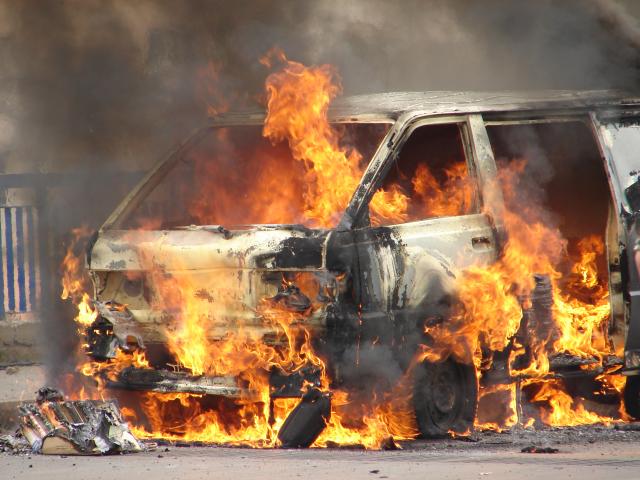 Carter's Pizza was forced to recall all 30,000 units of its new in-car Series 1000 Quick-Bake Delivery Oven last week, sources said. The move, prompted by several "unfortunate incidents," came less than 30 days after the company installed the new equipment in the vehicles of every delivery driver in the country.
According to reports, despite the costly installation and training process, the company announced the massive recall after the ovens were linked to a long list of accidents, including passenger-seat fires, asphyxiation, and spontaneous combustion.
The oven was designed to cook pizzas during actual delivery, thus cutting down delivery time on long-distance runs, and fed off of the heat generated by the delivery car's engine. While the equipment could potentially save restaurants the expense of in-store ovens and associated utility costs, according to company spokesman, Heinrich Cantrell, the possibility of lawsuits by the victims' families and other customers far outweighs any potential savings.
"On behalf of our entire organization," said Cantrell in a prepared statement, "I wish to convey our deepest condolences to everyone affected by this obvious misjudgment on the part of our company.
"Our thoughts are with our employees and their families, especially that kid from store #3303 up in Albany…what's that kid's name? It was Patrick, wasn't it? That was particularly gruesome; though I'm sure he never felt a thing.
"Additionally," continued Cantrell, "any customer whose delivery was delayed by these accidents—and the subsequent ghastly, fiery deaths—will be e-mailed a voucher for one free pizza.
"That's right. At Carter's Pizza, we honor our 21-minute delivery guarantee. No matter what. Unless, of course, you try something slick…like, ordering a whole bunch of pizzas with the hope that we can't possibly make and deliver them in time. We are customer-service oriented at Carter's, not stupid.
"On a brighter note," said a smiling Cantrell, "that lady who caught the McDonald's coffee in her lap is looking like a bit of a sissy right now, eh?"