New Father Brings Home to School with Him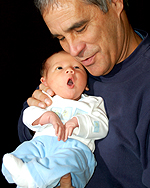 Photo courtesy of Brian Burke
Brian Burke, a new geology professor at Henry Ford Community College who recently became a father for the first time, may need to catch up on his sleep. Since his wife came home from the hospital with the couple's healthy newborn last week, Burke routinely forgets when he is supposed to teach, continually gives assignments and grades to the wrong students, and has developed a habit of losing things. Yesterday Burke misplaced an entire stack of take-home tests.
"We still haven't found them," said Burke, yawning.
Other instructors report that, in addition to his forgetfulness and absent-minded behavior, Burke's professional manner has been replaced by odd, repetitive phrases spoken in a singsong voice.
"When I asked Brian this morning if he'd seen my copy of the current textbook," said fellow science professor, Vince Sardina, "he crouched down real low with his hands on his knees and got this big, sloppy grin on his face. Then he kept repeating, 'Where is it? Ah, where is it? Do you know where it is?'
"I told him I didn't know—that's why I asked him. But he just kept saying, 'Yes you do. Ah, yes you do.'
"It all seemed a bit creepy."
Administrators at the college agree that something might have to be done soon. Carol Timmons, a longtime secretary in the science department, said, "It's one thing for Brian to wave to the students and say 'Night, night' as they leave the school for the evening.
"But I knew we had to draw the line when that grown man came in—he was kind of a burly, biker-looking guy—and asked for directions to the bathroom, and Brian responded, 'Do you have to go potty? Who has to go potty?'"